november 2005 knits

« october 2005 | | december 2005 »



Gayle finished her hoodie! Way to go!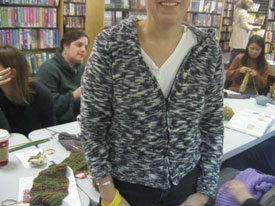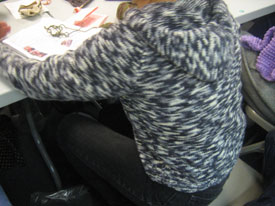 And now she's working on a patterned scarf in Print 127 yarn.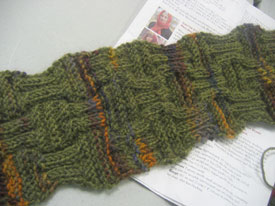 Monica came to join us this week, wearing her beautiful hourglass sweater.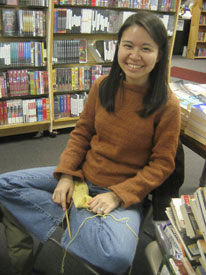 Isn't she the cutest thing ever?!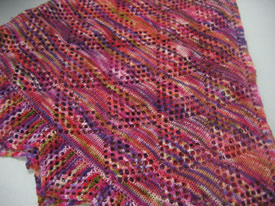 She brought in this stunning new shawl she just finished. It's her first lace shawl!

This week we got to see the weasley sweater Shireen's making for her niece (look at that awesome "X" on the front),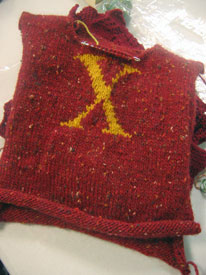 the baby raglan she's knitting for her nephew (from Last Minute Knitted Gifts in Koigu Kersti),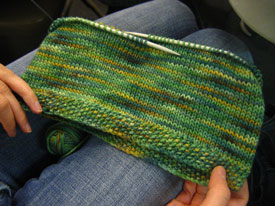 and her finished Midwest Moonlight scarf (which looks fabulous with her new coat, by the way).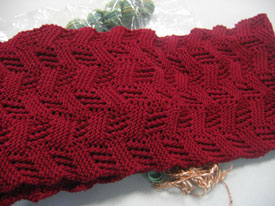 Wow, Shireen!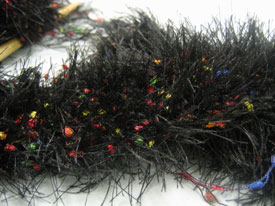 Fuzzy and sparkly? That MUST be Claire!
And check out this lovely glittery number she's working on now.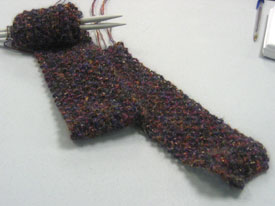 Not only does Mary Linda have excellent taste when it comes to scarf yarns, but she can pick out great sock yarn as well!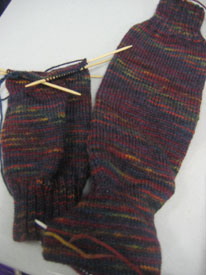 (It's Mountain Colors, her favorite.)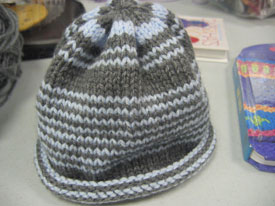 Dana's friend, Marilyn, joined us this week, and brought the cutest little hat ever. Those colors are terrific together and so are all those fun stripes. We can't wait to see more of Marilyn's knitting!
Dana is making a cloche hat for herself with some Print 127 yarn that she got in the swap.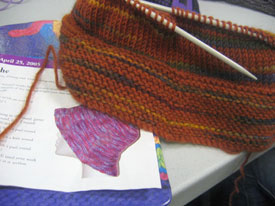 Lisa's getting a good start on her Christmas knitting, making stockings for her daughter and niece.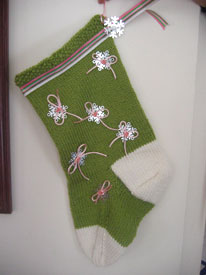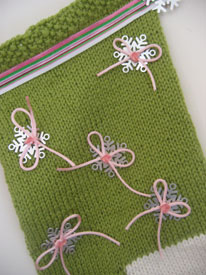 She's using ribbon and scrapbooking decorations to embellish the stockings.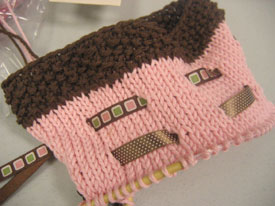 Colleen is making Annie Modesitt's Backyard Leaves scarf from Scarf Styles.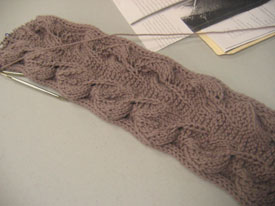 Aren't those leaves incredible?!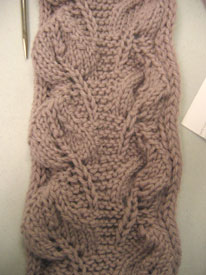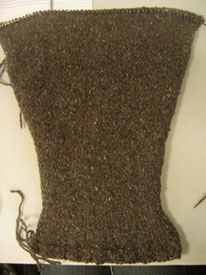 Terri's just finishing the first sleeve of Jo Sharp's Rebecca sweater, which she's making for her sister. Don't you just love the shaping at the cuff?!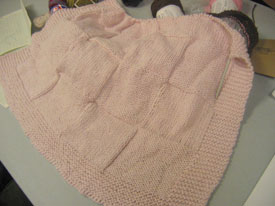 Siliva is working on a baby blanket in the loveliest pink.

Dana's fingerless gloves just need flaps!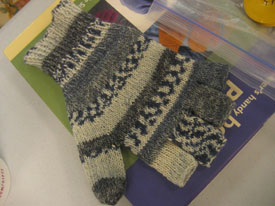 She used Ann Budd's Handy Book of Patterns to make the gloves.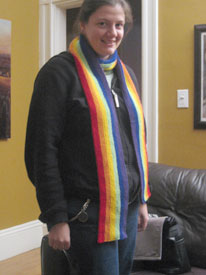 New Knitsmith, Ariel, joined us this week and managed to bind off her long side-to-side rainbow scarf. Isn't it cool?! She found the perfect colors in Lion Brand Microspun.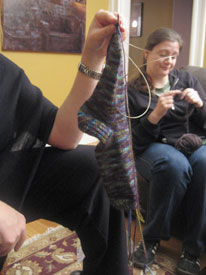 Lisa's just finishing up the last sock for her dad. She's using a fabulous yarn from Dancing Leaf farms.

Dana's fingerless glove is almost done!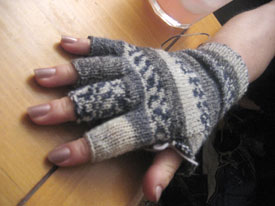 More jaw-droppingly incredible knits by May: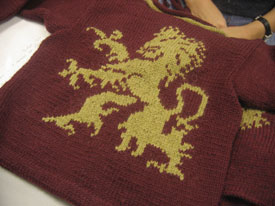 But wait, there's two of them!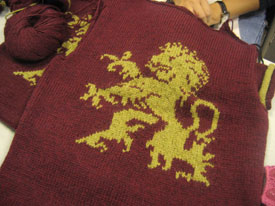 Heraldic lion sweaters for her girls. I'm speechless.

We haven't seen Lisa at knitting for a few weeks, so of course she had lots to show us!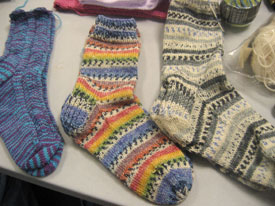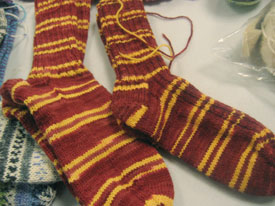 Lorna's Laces Broadripple socks, two pairs of the new Opal sportweight socks, and two pairs of Harry Potter socks (knit in Dani's hand-painted yarn). And they're all gifts! Her latest pair will be for her dad.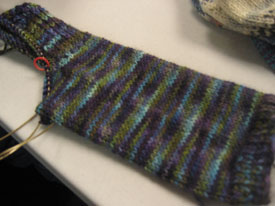 And just look at the fun little Morehouse Merino jester hat that she recently finished.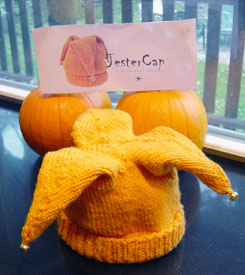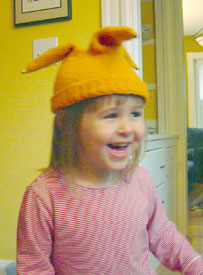 That'll put a smile on your face for sure!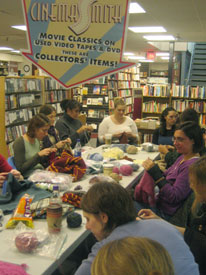 Knitsmiths knit collectors items!

This week Amber brought in her Harry Potter: Prisoner of Azkaban scarf. Love the colors of that Nature Spun!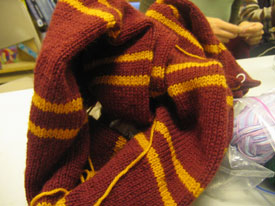 And this fun twisty scarf (done with garter stitch short rows!) for a niece.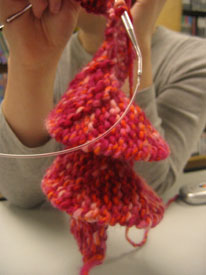 Shannon's been too busy posting about her recent honeymoon on her blog to update us on her knitting. But we got to see her projects in person this week!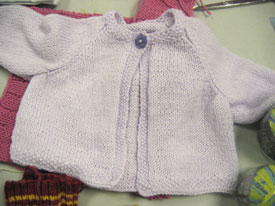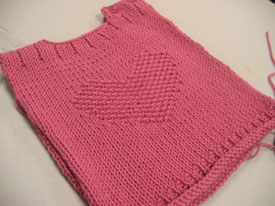 Two sweet baby sweaters for friends' little ones on the way. The second is her own girly version of the the star sweater she made this summer.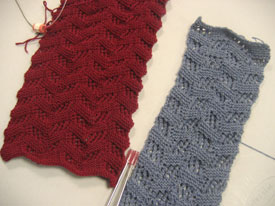 Two Midwest Moonlight scarves (from Scarf Styles) underway.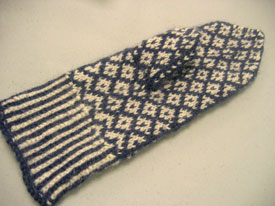 After working on her intarsia dinosaur sweater last time, Tanya has now moved on to these incredible fair-isle mittens from Folk Mittens. Wow!

Knitsmiths love orange!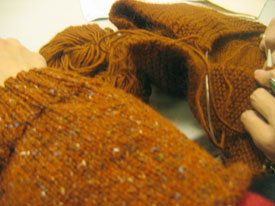 My orange weasley and Gail's orange garter stitch sweater.

"Would you believe that this is from the same dye lot?!"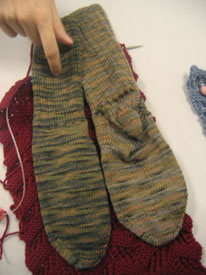 Shireen's Lorna's Laces socks came out great! But they still don't match. What'dya gonna do?

The semi-annual Knitsmiths yarn swap!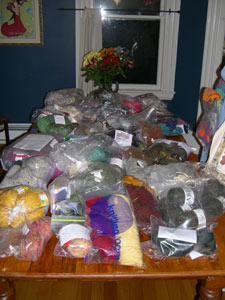 Look at all that loot!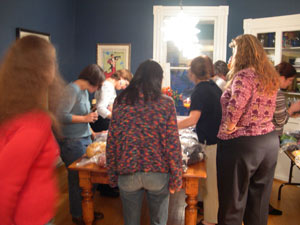 Pre-swap browsing. Post-swap knitting.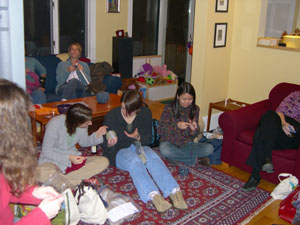 What a great way to spend an afternoon!

Seen at the swap: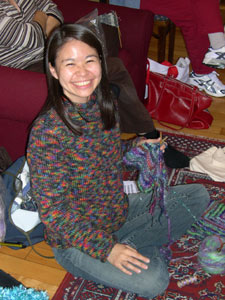 New Knitsmith, Monica, her beautiful socks, and a few of the gorgeous mitered squares she making for an afghan.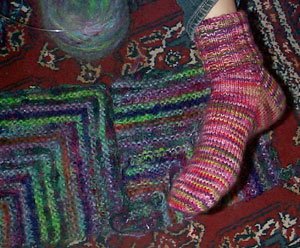 Seen at the swap: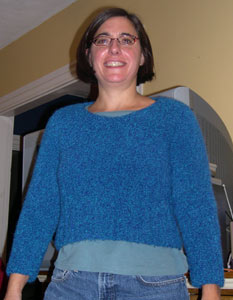 Emily in a fabby (and finished!) cropped pullover she got off the swap table. And here's the start to a sleeve for the lovely mohair sweater she's working on.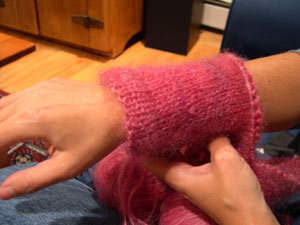 Seen at the swap: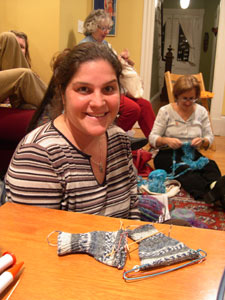 Dana is back! And she's working on some fingerless mitts.

Seen at the swap: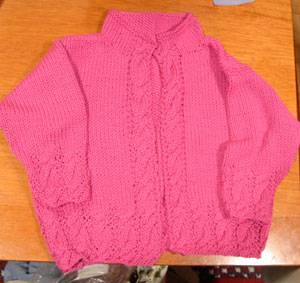 Our swap hostess with the mostest, Thea's pink cabled cardigan for her daughter.

Seen at the swap: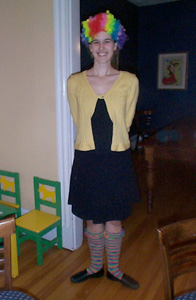 Johanna in her Halloween outfit (you probably can't see the candy corn earrings!) and her yummy pumpkin muffins.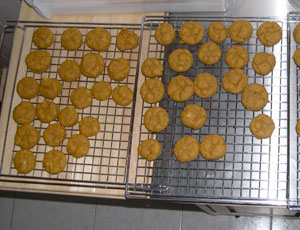 Seen at the swap: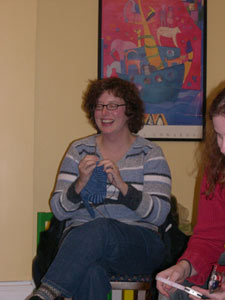 Katie and her stripy sock.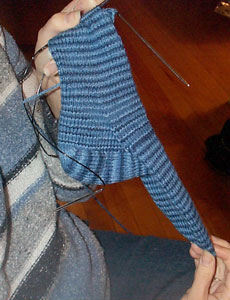 Seen at the swap: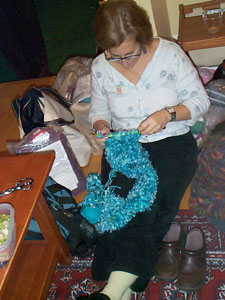 Nancy's glam glitter scarf.

Seen at the swap: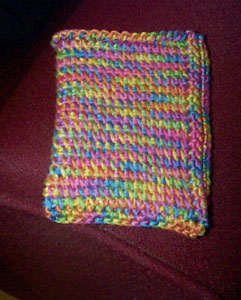 Another of Claire's crocheted pockets and the coolest scarf ever made with self-striping Regia sock yarn.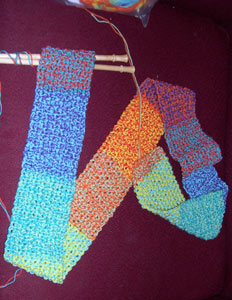 She used two strands of the sock yarn held together - just started at the beginning of each ball - and it totally just striped like that. Awesome!