Knitsmiths knits



march 2005
Swap Day
What an awesome swap! Everyone brought fantastic yarn, and lots of it!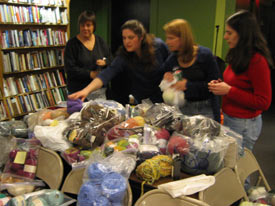 Dava, Dana, Thea, and Emily inspect the yarns
Of course, no yarn swap would be complete without fun fur.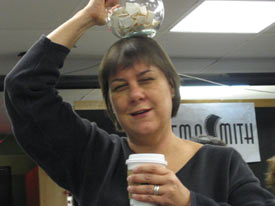 "you're not taking a picture of me, are you?"
First, our fearless leader, Dava, reminded of us of the rules while taunting us with the bowl of numbers. Next, we each pulled a number and as we were called we could select one bag of yarn. Decisions, decisions.... We all came up again in reverse order for a second pull and then the best part of all: the FREE FOR ALL!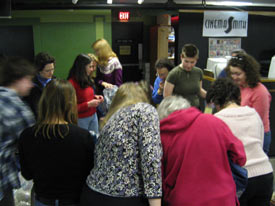 grab it while you can!
Finally, all the acrylics and the leftovers were packed up to be donated. There was just enough knitting time left for several Knitsmiths to swatch their new yarn.
A big thanks to the nearly 50 Knitsmiths who brought in such great yarns and made the swap such great fun. You're the best!

[more knits by
Knitsmiths
]